La Marquises

A great holiday home for a smaller budget
Good value for money
Built like an all-terrain 4x4, the Marquise provides a very fast return on your investment. This bungalow is built using PVC canvas, allowing you to keep it up all year round (except in regions with heavy snowfall).
An entry-level bungalow
With a floor area of 20m² and 2 bedrooms separated by a dividing wall, the Marquise is quick and simple to install, and perfect for smaller plots. It is ideal for young campers and families looking for a short stay on your site.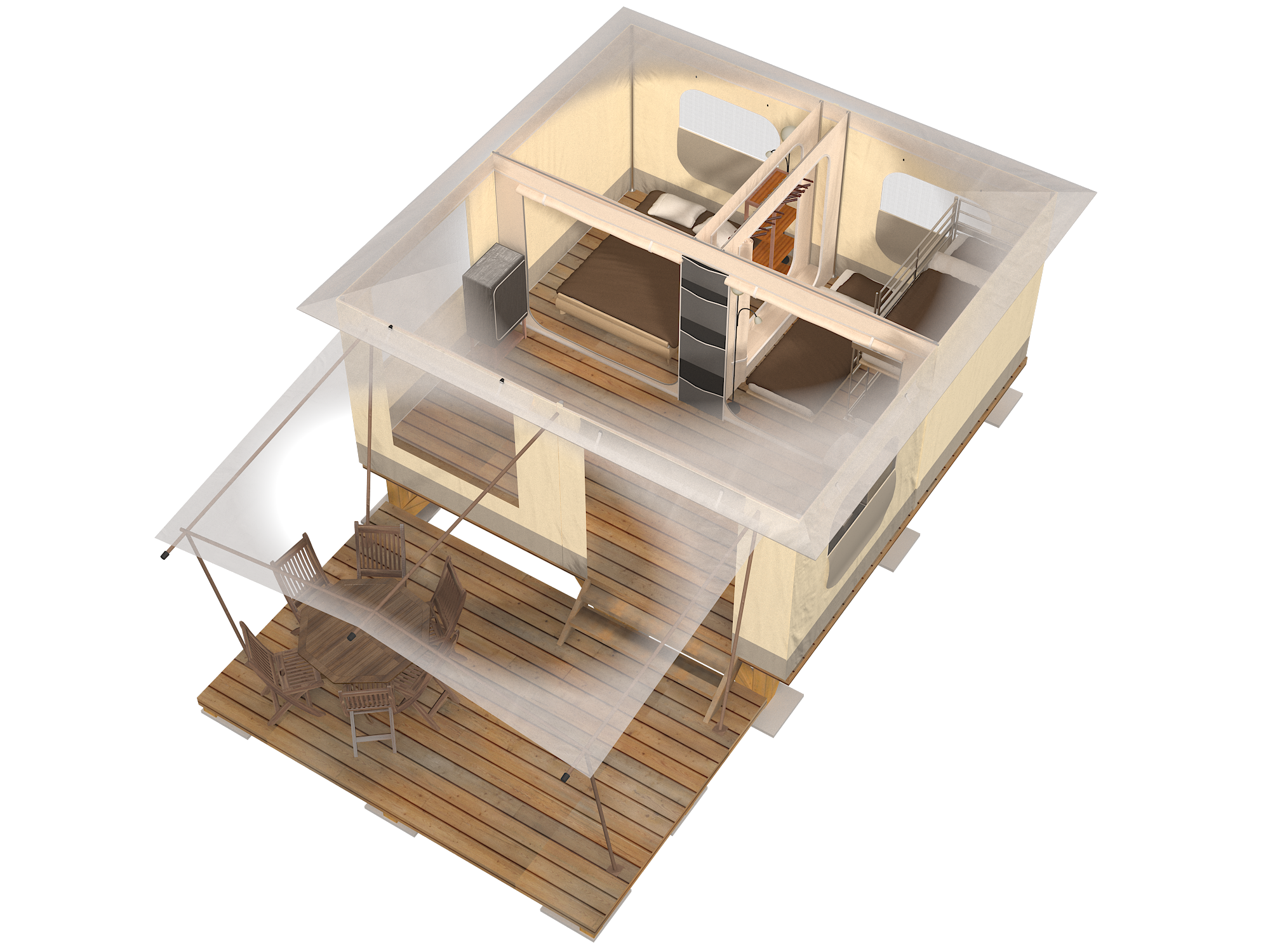 General characteristics
Bungalow floor coverage
4,4 x 4,4m = 19,36 m²
Number of people
4
Number of bedrooms
2
Mosquito netting and windows
1 shutter in each bedroom + mosquito netting
3 outside shutters in the living room + mosquito netting
Structure
Frame
Galvanised steel, diameter 30 x 1.5mm paint aged iron color
Canvas
Interior canvas
Cotton velum 200g/m²
Exterior canvas, wall and gable
Coated PVC 680g/m² – M2
Roof canvas
Coated PVC 680g/m² – M2
Canvas tightening
On the ground, using rings and rails
Roof-frame attachment system
Stainless steel ratchet straps
Facade
Fabric door with a wide zip opening
Ground-level terrace with canvas shade
Installation on gravel-covered slabs
Adjustable floor to adapt to the configuration of your grounds
27 x 145mm wood blades from certified Scandinavian forests
Equipped with 12 + 6 poles of 90 x 90 mm
95 * 45 mm strips and 120 x 45 mm cross ties,
Underfloor tarpaulin to prevent upwelling of cold air,
Stainless steel screws
Stairs 2 steps.
Flooring
Piloti-mounted flooring 7,60 x 4,50 (34,20 m²)
12 posts under the floor of the tent and 6 posts under the floor of the terrace
Class 4 autoclave-treated according to European standards
Flooring can be adjusted from 18 to 92cm to adapt to the terrain
Wooden planks 27 x 145mm, sourced from certified Scandinavian forests
Fitted with twelve 90 x 90mm posts
95 x 45mm strips and 120 x 45mm cross ties
Under-floor tarpaulin to exclude draughts
Stainless steel screw
Adjustable pilings from 18 to 92 cm
Stairs of 2 steps
Installation on gravel-covered slabs
A great holiday home for a smaller budget
Flooring, sleeping, kitchenware, crockery, electricity kits ...
A range suitable for lodges and bungalows