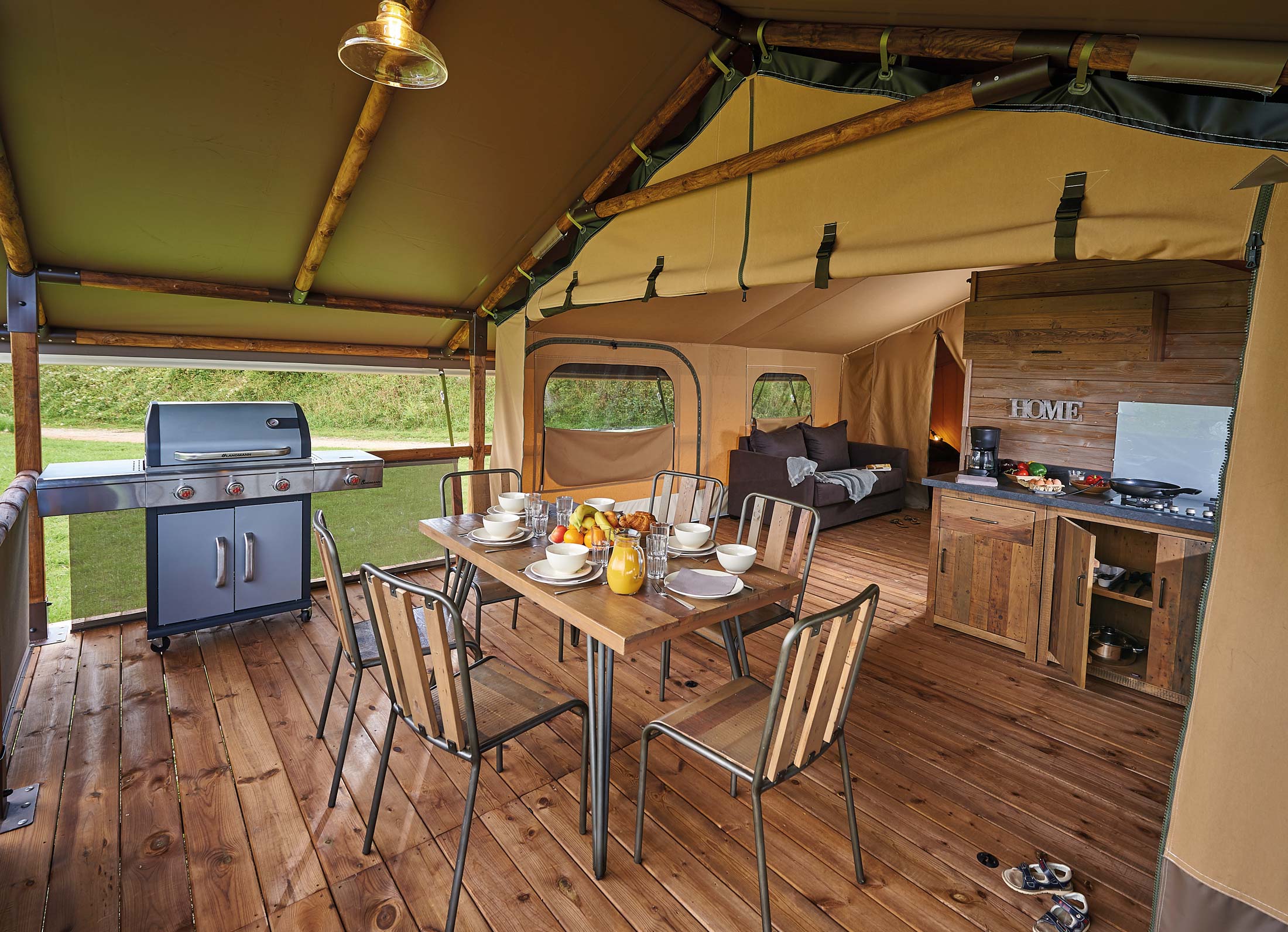 Safari Journey
The Safari atmosphere of this lodge will take guests on an adventure that is really out of the ordinary,
charmed by the wood frame and the cotton-like appearance of the Tencate fabric.
Our furniture kits in vintage pine blend in perfectly with the wood frame and the Tencate fabric.
The Kenya can remain assembled throughout the entire year (with an optional Altitude Kit for snow-covered areas).

General characteristics
Surface du Lodge
5,00 x 9,20 m (46 m²)
Number of people
4 to 7
Number of bedrooms
2 (2,20 x 2,35 m)
Mosquito netting and windows
1 indoor shutter in each bedroom + mosquito netting
2 indoor shutters in the living room + mosquito netting
Structure
Frame
Autoclaved class 4 pine, Ø 80mm + galvanised steel connectors and rust-brown polyester paint aged iron color
Optional railing
Railing with BATYLINE FERRARI grill protection
Canvas
intorior canvas
Polyester velum 205g/m² – M1 thermal insulatio
External canvas
CampShield FR1 Tencate fabric 420g/m² – M1
Roofing canvas
PVC Bicolore 630 g/m² – M2 FERRARI STAM
Canvas tightening
On the ground, using rings and rails
Roof-frame attachment system
Stainless steel ratchet straps
Facade
1 large door split in two, zip closing. Padlock locking (not included)
Terrace siding (optional)
PVC 630g/m² – M2 Ferrari
Terrace
Covered terrace of 12m² + 9m² uncovered as XL floor
Flooring
Piloti-mounted flooring 9,57 x 5,36 (51,30m²) – 28 poles
Class 4 autoclave-treated according to European standards, sourced from certified Scandinavian forests
Flooring can be adjusted from 18 to 92cm to adapt to the terrain
Wooden planks 27 x 145mm
Fitted with sixteen 90 x 90mm posts
95 x 45mm strips and 120 x 45mm cross ties
Under-floor tarpaulin to exclude draughts
Stainless steel screw fittings
Adjustable pilings from 18 to 92 cm
An editable staircase from 1 to 4 steps that are installed on the front or on one side of the Lodge
Installation on gravel-covered slabs

Plancher XL : 11,31 x 5 ,36 (60,62m²)

The Vintage Kenya Bathroom
Bathroom comes pre-assembled, to be fitted directly onto the lodge's pile flooring
Comprises an LED-lit shower, a wash hand basin, a separate toilet accessible via a sliding door, 2 vintage switch-controlled lights and
an electrical socket.
Planed and brushed spruce walls, 21 mm thick, gold or pink.
50 litre electrical water heater with built-in pressure regulator.
Easy to connect to the electrical cabinet, to a water supply and to the waste water network
Vintage spirit, bathroom, living room, kitchen, bedrooms
Flooring, sleeping, furniture, crockery electricity kits ...
A range suitable for lodges and bungalows