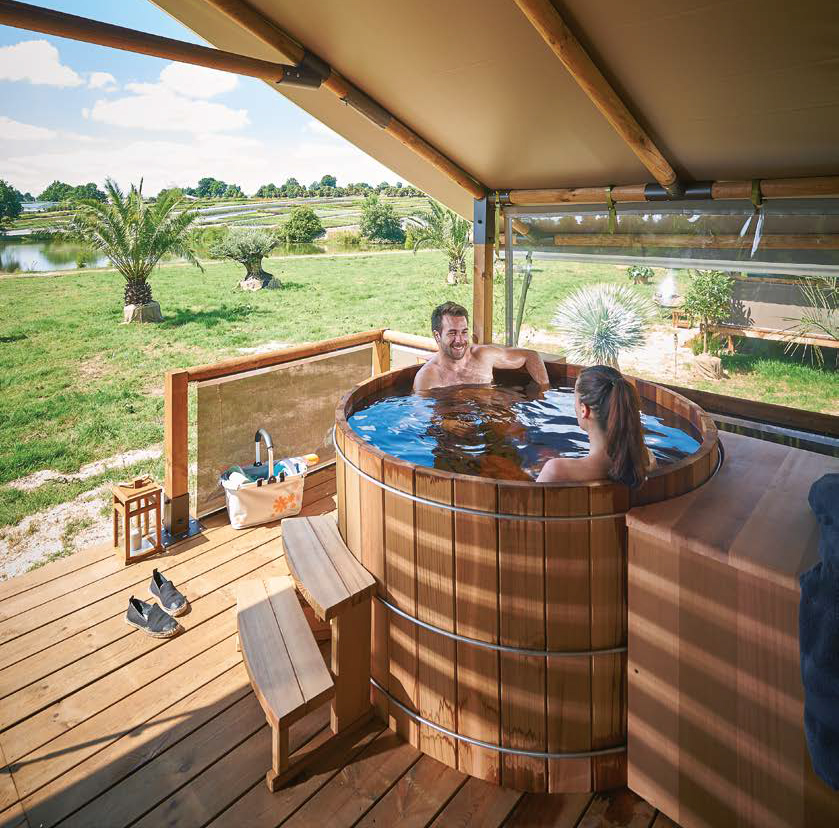 Enjoy all the comfort of a spa break
On your own front porch
Our four-seater Nordic bath can be installed right onto the terrace of the lodge. This heated bath is great for your health and well-being, offering your clients a chance to unwind in the open air.

Storvatt have been manufacturing Nordic baths in France since 1997. They've created a custom made Nordic bath that blends seamlessly with the terraces of our canvas-roofed lodges.
Starvatt take pride in their mastery and craftsmanship with Red Cedar, a high-quality and exceptionally durable wood. The solid wood components are meticulously assembled. The bands around the baths are made from curved, threaded stainless steel bars and the wood is finely sanded for an exceptionally smooth texture. The electrical heating and filtration system are connected to our power shedding system, meaning there's no need to increase the power to the bath.
General characteristics
Floor coverage
5,00 x 6,90 (34,50 m² )
Number of people
4 to 6
Number of bedrooms
2 (2,20 x 2,35 m)
Mosquito netting and windows
1 indoor shutter in each bedroom + mosquito netting
1 indoor shutter in the living room + mosquito netting
Structure
Frame
Autoclaved class 4 pine, Ø 80mm + galvanised steel connectors and rust-brown polyester paint aged iron color
Optional railing
Railing with BATYLINE FERRARI grill protection
Canvas
External canvas wall and gable
Polyester velum 205g/m² – M1 thermal insulation
External canvas
CampShield FR1 Tencate fabric 420g/m² – M1
Roof canvas
Twin-colour PVC 630g/m² – M2 Ferrari STAM
Canvas tightening
On the ground, using rings and rails
Roof-frame attachment system
Stainless steel ratchet straps
Facade
1 large door split in two, zip closing. Padlock locking (not included)
Terrace siding (optional)
PVC 630 g/m² – M2 FERRARI
Single block bathroom
A single block bathroom unit, fully pre-assembled in our factories, to be installed directly on the piloti-mounted lodge flooring
Includes a shower, sink, WC, 2 lights operated by a switch and an electrical plug socket
Soft vinyl floor, 16mm melamine-coated chipboard walls with natural oak décor, lockable door
50 litre electric boiler with integrated pressure limiter
Quick to connect to the electrical cabinet, power supply and waste-water outlet.
Flooring
Piloti-mounted flooring 7,25 x 5,36 (38,86 m²) – 20 poles
Class 4 autoclave-treated according to European standards, sourced from certified Scandinavian forests
Flooring can be adjusted from 18 to 92cm to adapt to the terrain
Wooden planks 27 x 145mm
Fitted with sixteen 90 x 90mm posts
95 x 45mm strips and 120 x 45mm cross ties
Under-floor tarpaulin to exclude draughts
Stainless steel screw fittings
Adjustable pilings from 18 to 92 cm
An editable staircase from 1 to 4 steps that are installed on the front or on one side of the Lodge
Installation on gravel-covered slabs
Option
Floor XL : 8,99 x 5,36 (48,19m²)
The adventure of sleeping in the wild, but with all the comfort you could ask for
Flooring, sleeping and kithenware kit …
A range suitable for lodges and bungalows